Disclaimer: Links throughout the article may be affiliated. If you click and make a purchase, I get a small commission. As an Amazon Associate, I earn from qualifying purchases.
Many drummers and percussionists seek out the conga because of its roots and continued use in Afro-Cuban music. It is the instrument most people think of when that genre comes to mind and an essential addition for any musician who wants to study Latin percussion. And they are also just simply fun to play!
Congas aren't cheap. Even the budget models are going to be a few hundred at a minimum. Like all instruments, going too low will cost you in build and, most of all, sound quality. This article will show the eight best congas to buy this year, depending on your needs and budget.
Conga Basics
Like many Afro-Cuban instruments, their origins have multiple inspirations and locations due to the lack of history. But they were officially born as the conga in Cuba and exploded onto the jazz scene in the '30s and '40s with the mambo craze. Later the upbeat but still smooth genres of exotica, space-age pop, and lounge made heavy use of the conga drums.
Build
Congas are staved, which means using narrow pieces of wood or fiberglass to build round objects. The most common example is a barrel, and here a small one with a drumhead uses screw tension with lugs to adjust the tuning. Three different sizes classify them from low to highest notes.
Of course, the material used needs to be quality to ensure good sound and hardware that works. It's a simple instrument, but doing it right takes experienced builders. Unless you have a huge budget, you will see most student congas made from the same materials.
And while they do not need to be tuned, they can often be adjusted to specific notes. Often with just two, their pitches are a perfect fourth apart. This is a common and essential interval in harmonics. While you won't likely be diving into tuning variations as a first time player, knowing the notes your drums create will always be helpful.
Essential Rhythms
There are five basic strokes to learn with the conga, with names like open, muted, bass, slap, and touch. Depending on how you hit the head, different strikes with the palm or fingers will lead to those sounds. And as a beginner, there are a few essential rhythms you will want to learn.
The main conga patterns are the tumbao, bolero, songo, and guaguancó for when the player has three congas! You will want to watch videos on playing methods for popular styles like salsa, merengue, and the rumba. Luckily there is no shortage of great examples online.
From the moment you get your congas, make sure to practice these primary rhythms. Get the feel and proper technique down from day one to stick those vibes in your head, especially if you are more used to 4/4 time and need to find that 6/8 movement. Like all musical genres, you need to start by building a good foundation.
Congas and Bongos Differences
It isn't uncommon for beginners to switch these up. Bongos are very small compared to congas, which gives them a higher pitch and less volume. Congas are predominantly played with the palm and hand while the bongos are generally more finger movement. The conga is often the essential part of the rhythm, while bongos can stand out more for improvisation.
---
The 8 Best Congas
Below are some of the current best congas to buy in 2022. Given the current situation, more people are learning to play music so that availability may change. But as long as you take this basic knowledge and avoid being cheap, you should have no trouble choosing an excellent conga drum.
Cosmic Percussion Conga Set with Free Bongos (Best Budget Option)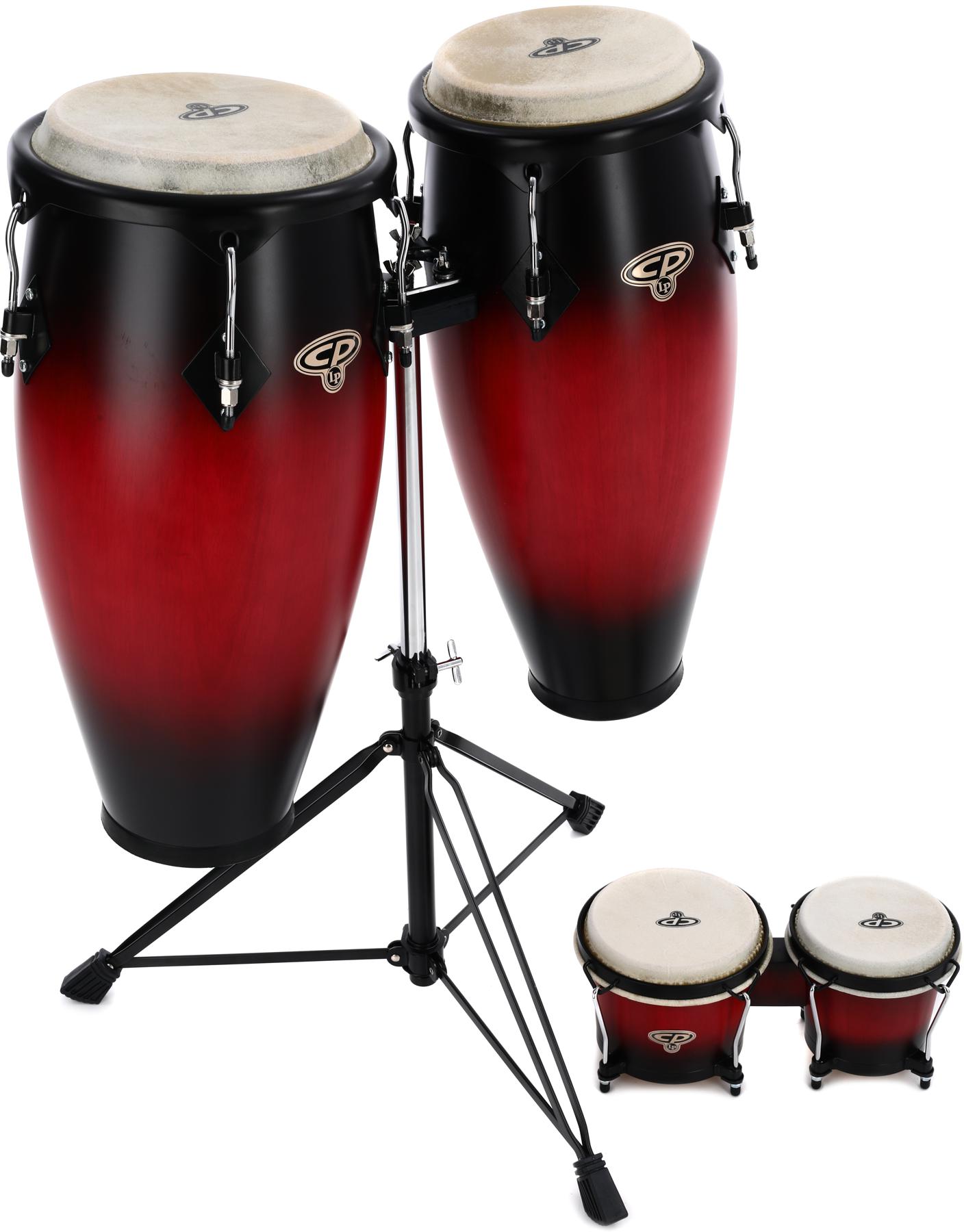 This Cosmic Percussion set is 26″ inches tall and made of siam oak. The 9″ and 10″ rawhide heads give it a lovely ringing tone. Some of the black-coated hardware gives it a pretty cool look, and it comes with an adjustable double conga stand. The matching set of free bongos have the same color and design as the congas.
Latin Percussion City Series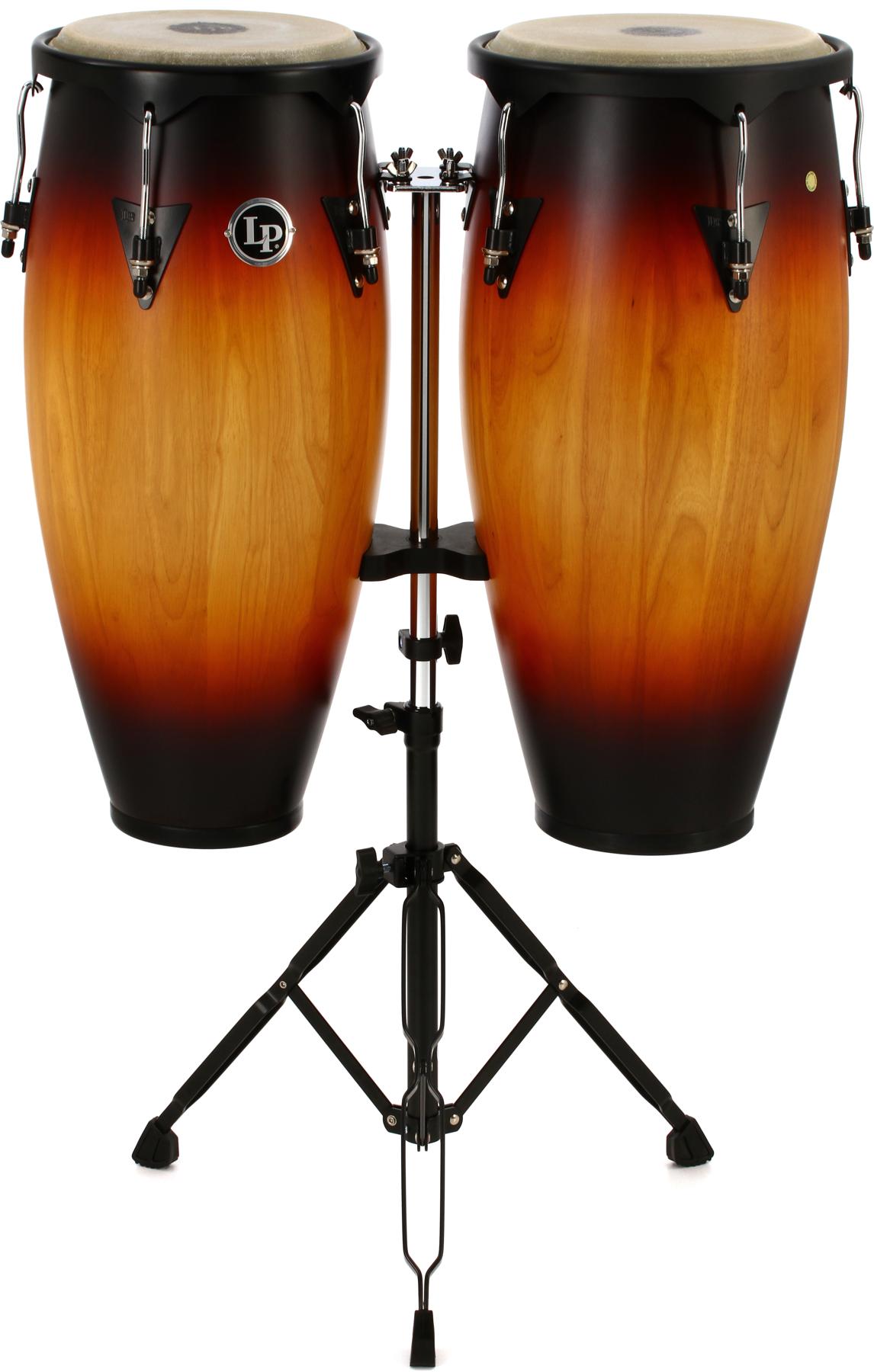 You will see many examples from the famous company Latin Percussion because they usually make great student instruments. They also use siam oak but 28″ high and with larger 10″ and 11″ rawhide heads. It also has black coated hardware and vintage sunburst design. And it comes with a tuning wrench and a free stand.
Toca Synergy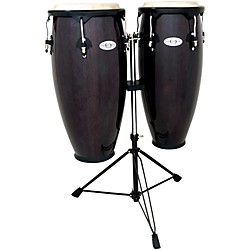 Toca Percussion is another leading company on the market for drums and accessories. They make great student and more advanced models. This model is made of maple shells and is 28″ long with 10″ and 11″ natural rawhide heads. The hardware is black powder-coated and an amber finish. The free bongo set is made with the same building materials.
Latin Percussion Aspire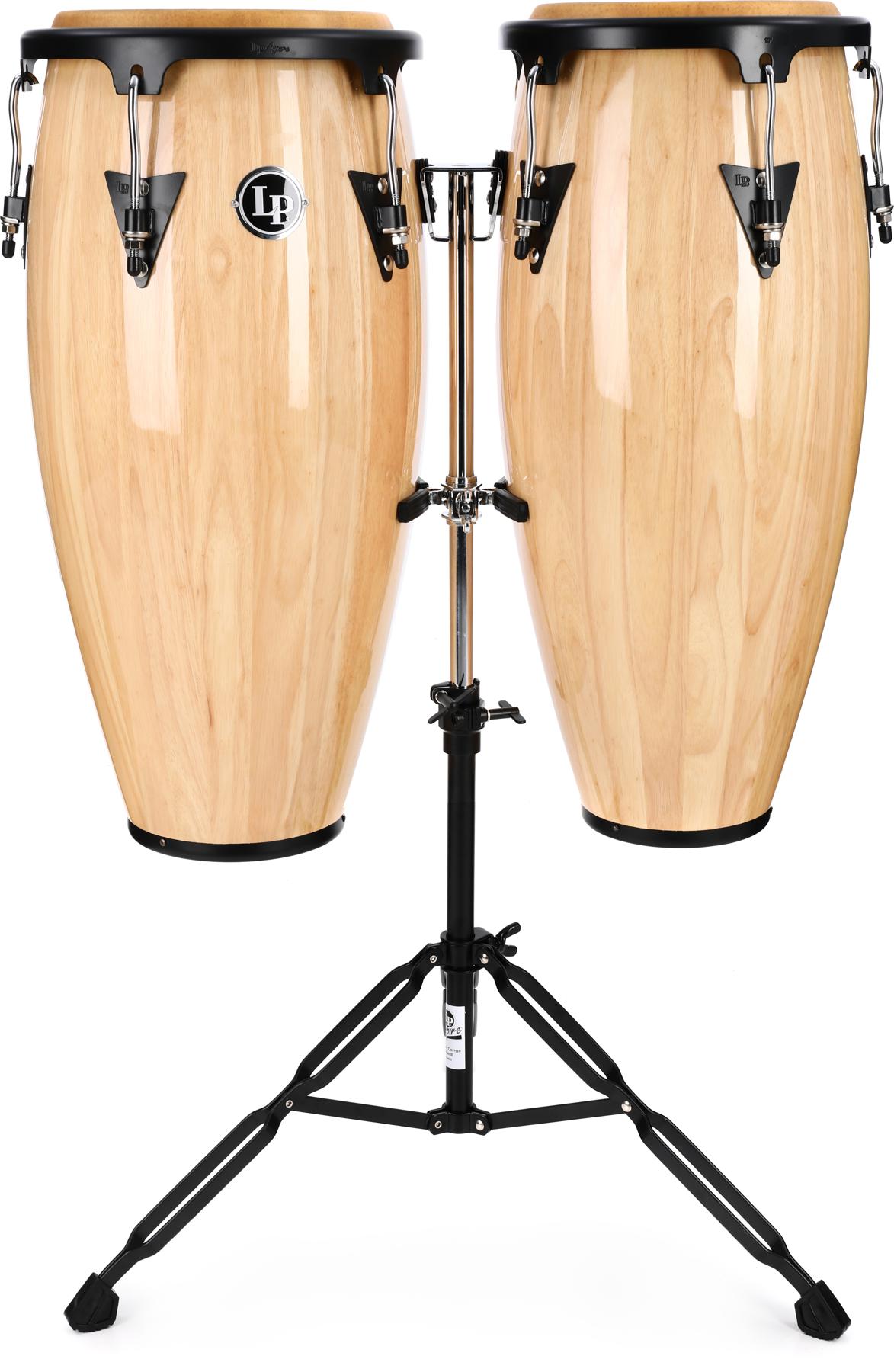 A slightly pricier LP model is also 28″ with the same 10″ and 11″ head this time in natural rawhide. It is also made with siam oak, which is said to be better for the environment. There is a chrome-plated adjustable conga stand, and it has a natural wood finish. It has added durability thanks to the EZ Curve Rim and a larger side plate to distribute tension.
If you have a lower budget, a lower-priced LP model will still work for practice
Meinl Percussion Headliner Series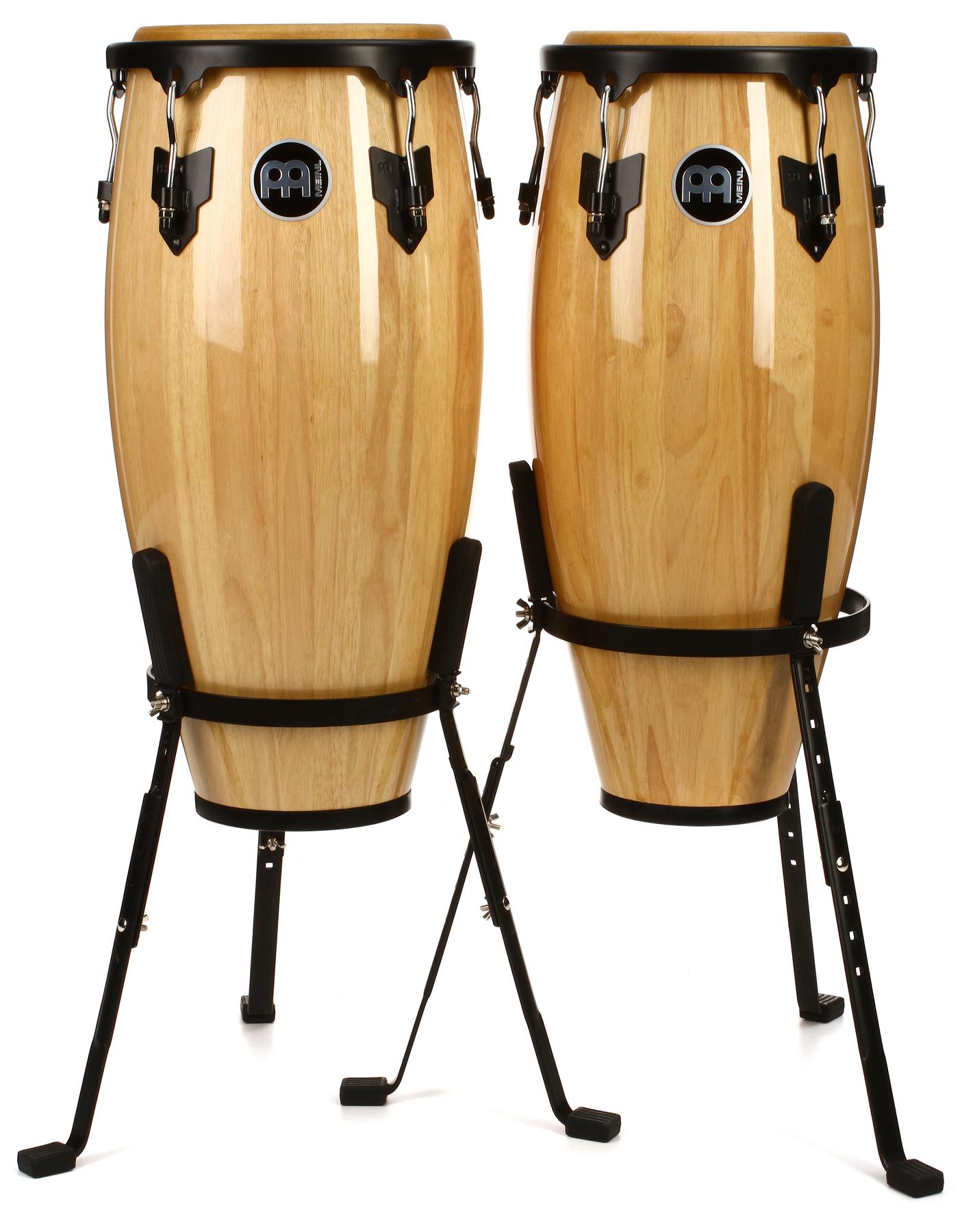 Meinl is another great name in the game, especially for student type models. They make such a huge variety of percussion instruments that it's hard not to own one eventually! Again these congas are 28″ tall with 10″ and 11″ heads, but these are made from buffalo skin. With the included tuning key, the lugs are easy to service and maintain proper tuning. It has a natural finish and a double-braced stand.
Latin Percussion Matador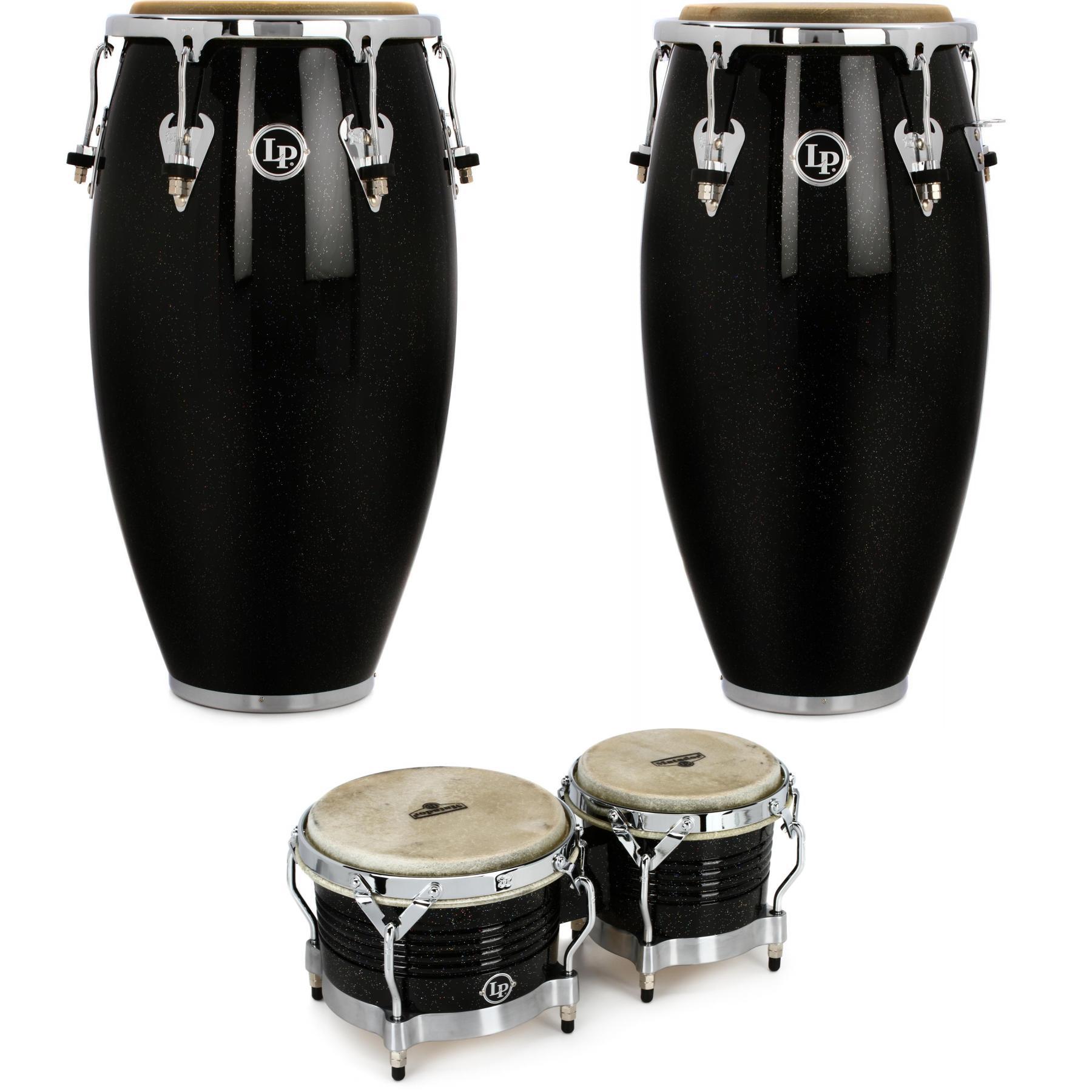 Here we have a slightly different size than usual, with 11″ and 11.75″ natural rawhide heads. With a three-ply siam oak shell, it is somewhat thicker than previous models.
It has a patented Soft Strike rim with long-term tuning stability. This is getting into the realm of professional instruments and high budgets. You may first want to play this model in person at a local music store.
Gon Bops Mariana Series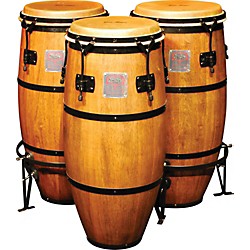 There are a limited number of companies that make decent congas, so if you want something different, try Gon Bops. They started building congas and bongos back in the '50s. This particular series has an 11.75″ head. The shell is made from durian wood (durian is that famous stinky fruit that many people cannot tolerate). The head is calfskin, and the hardware is chrome.
LP Perazzo Signature Conga Bundle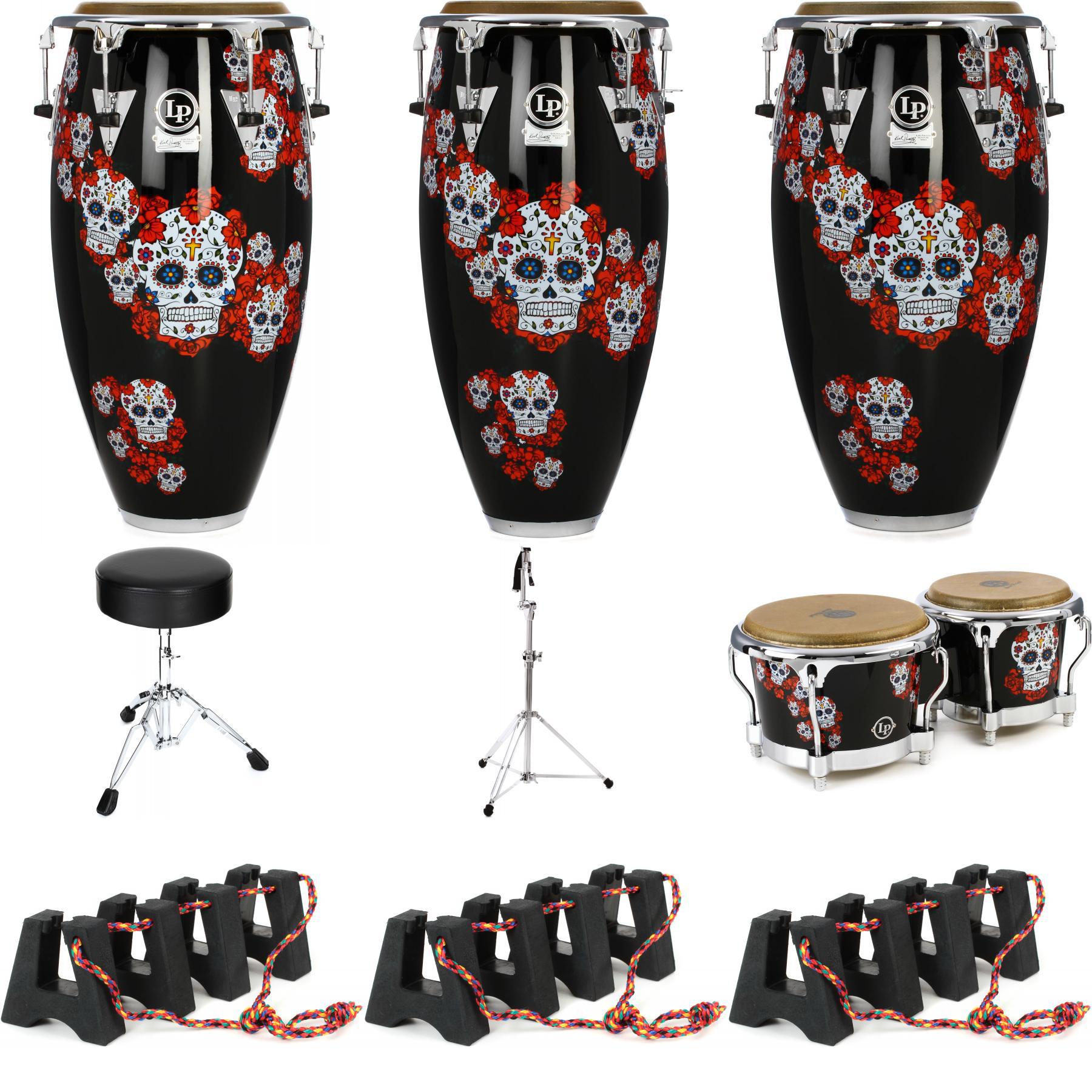 This instrument demands immediate attention with its day of the Dead type skull design. The barrels are made with Kevlar-reinforced fiberglass shells and rawhide drum heads that are handpicked. It also has the LP Comfort Curve Rim II and rubber conga feet for holding the drums. This is Karl Perrazo's signature model, an excellent percussionist that has played with many great musicians, including Santana.
Conclusion
Depending on your budget and taste, different congas above may be the best suited for you. But if we were to pick the best one on the list, it would be the Latin Percussion Aspire. A reputable company makes it, and many players have positive reviews of that particular line. Plus, it is right in the perfect price range for a proper sounding instrument that will hold its tune so that you can focus on learning.
Once you get your congas, make sure to thoroughly inspect them, and don't attempt to settle for any significant issues. Again, immediately learn the famous and original patterns for playing. Most of all, find other drummers and musicians to jam on your new musical journey with the congas!