I may earn a commission from the affiliate links on this site. Learn more›
As drummers, we tend to play better when we feel better. Our level of comfort and strain has a direct correlation with the quality of our performances. Playing with discomfort will always lead to worse performance than had the player been fluid and flexible.
Surprisingly, the one thing that can make the biggest difference in your performance and comfort is your drum throne. Today we will be taking a look at the best drum throne you can buy for both value and comfort.
Best Drum Thrones of 2023: Gear Guide
Below is a table listing our best picks available. This is just a quick glance and if you'd like to see more information about each drum throne, keep reading on.
Description:

Drum Throne with Manual Spindle Height Control and Original Ergonomic Seat Design

Description:

Drum Throne with Gas Shock Absorber, Gas Lift, Free Spinning Seat, and Ergonomic Seat Design

Description:

Motorcycle-style Drum Throne with Padded Vinyl Seat and Memory Lock
Editor's Choice
Description:
Drum Throne with Manual Spindle Height Control and Original Ergonomic Seat Design
Runner Up
Description:
Drum Throne with Gas Shock Absorber, Gas Lift, Free Spinning Seat, and Ergonomic Seat Design
Budget Pick
Description:
Motorcycle-style Drum Throne with Padded Vinyl Seat and Memory Lock
Budget Drum Thrones?
Let's face it. Compared to other products we drummers buy, thrones aren't the most expensive thing on the list. Double bass drum pedals can run you up to the thousand dollar mark, for example.
I can't in good faith recommend any of the budget options to you. I can almost guarantee that any of the budget options will be either worse or about the same as your current throne if you already have a cheap one.
You may be better off putting some money away and buying your throne in the future.
If you have no other choice, here are a few options in the $50-$100 range:
Benefits of a Quality Drum Throne
Here are some reasons to save up a little cash and buy a quality throne:
As with most things in life, you get what you pay for. Here are some of the biggest benefits:
Larger seat to sit on – many cheaper drum stools have a very small seat. All quality thrones have a nice, large seat that increases stability and comfort.
Quieter movement – cheap variants often are loud and obnoxious due to the poor spindle design and will squeak constantly.
Back support – quality drum thrones are designed with ergonomics in mind. If you're a drummer with back problems, be sure not to be frugal when buying a throne.
These three benefits are present in all the major throne makers which will be detailed below.
Gibraltar Drum Stools
Gibraltar has made their impact in the drum world creating amazing hardware that many drummers swear by including Hannah Welton (Ford), Scott Savage, and Jim Riley.
It's no wonder that they have become one of the most recognized names in drumming.
Gibraltar offers two different seat configurations: round and tractor style, as well as different accessories for your seat.
I personally love the tractor style configuration, as it is designed ergonomically, giving you the most flexible and freedom when playing.
Gibraltar's drum thrones are offered in both hydraulic and manual spindle, but the round seat configuration is only manual spindle. It's possible that they may be able to custom design your order if you contact them.
My Overall Thoughts
Thumbs up in my book. Gibraltar makes great hardware. I don't personally use these drum thrones, but I have tried them out before. You can't really go wrong and they have a great name to back it up.
Drum Workshop Thrones
Drum Workshop, also known as DW, reigns king in the drum and hardware world. There's a reason why their DW9000 direct drive double bass pedal comes in at almost $1,000.
While the cost is high, the quality of the product makes it justifiable. Not only that, but DW also makes various products for all budget levels:
My Overall Thoughts
Drum Workshop makes incredible products, both in drums and hardware. That being said, I still can't get behind their thrones. I hate the look of the four-way brace system. I think it's unnecessary and looks tacky. I'll preface this for now (and go into greater detail about these in general), but many people have had problems with the hydraulic stool sinking after a few years of use.
Roc N Soc Drum Thrones
This is the only company on the list that exclusively makes professional, quality seats for drummers. They are by far my favorite company on the list for making thrones.
My first throne came along with my Pearl Export Select kit; it was terribly cheap. When the time came to upgrade after the legs had bent, I went with a Roc-N-Soc Manual Spindle throne. I couldn't be happier with it to this day.
You really cannot go wrong when it comes to Roc N Soc. I have had my throne for over four years and have never had a problem.
I once almost lost the large wingnut that attaches to the spindle, which can't really be considered a problem (more of a user error).
I promise if you sit down on a Roc N Soc, you won't be disappointed. I'll never forget the first day I brought mine home. My entire world of drumming opened up and I felt like an actual drummer for the first time. I didn't realize what I had been missing for many years.
My Overall Thoughts
This is my number one pick! You cannot go wrong. Roc N Soc is by far the BEST throne maker around and no one comes close. I have used many different thrones over the years and nothing compares.
What is a Drum Throne?
If you're new to drumming, you may have never heard the term drum throne before. This is your seat at the kit when you play drums.
Characteristics of drum stools include metal hardware with rubber feet, some sort of adjustment mechanism for height, and a foam, padded seat in the shape of a circle.
The throne is the central base for our movements, technique, leverage, and even footwork. Skimping out on a drum throne can cost you big time when playing gigs and practicing at home.
A quality drum throne will extend your endurance at the kit. You'll be much more comfortable and be able to play for much more extended periods. You'll see a difference in your ability, both in technique and precision.
Unfortunately, many drummers opt to buy the most budget options and end up with very mediocre products. It could be possible that they never have had the opportunity to sit on a professional throne before.
Importance of a Good Drum Seat
Just like an office worker needs a reliable and solid chair to work in, a drummer needs a comfortable and practical throne to rehearse and perform on. Having a good drum throne can make the world of difference when it comes to your playing and enjoyment of it.
This is where you're going to be sitting for many hours on end, so remember not to be frugal when choosing a drum throne. Some drum stools can even be helpful for those with back issues who want to play the drums.
Hydraulic vs Manual Spindle Drum Thrones – My Personal Opinion
There are three types of thrones you can buy today: hydraulic, manual spindle, and height adjustable drum thrones.
A hydraulic drum stool is going to make adjusting heights very simple, just like an office chair with an adjustable handle.
A drum throne with a manual spindle has a seat that rotates to adjust the height. The last of the three operates like a cymbal stand does; manually tightening or loosening a wingnut to get the desired height.
I'm going to make my case against hydraulic thrones. If you like yours, that's fine.
I have no ax to grind here.
Do you remember playing on those types of hydraulic chairs when you were a kid? Hydraulic drum thrones operate in a very similar fashion.
These types of drum stools tend to be bouncier and move up and down while you play. I found this to be infuriating and obnoxious. If that's not a problem for you, go for a hydraulic drum throne.
When I sat down at a Roc n Soc Nitro after buying it, I immediately felt uncomfortable and know that it would become an issue.
I returned my drum throne and opted for the standard spindle version of the drum seat. A lot of players do like the hydraulic feel of these seats, so it's a subjective opinion.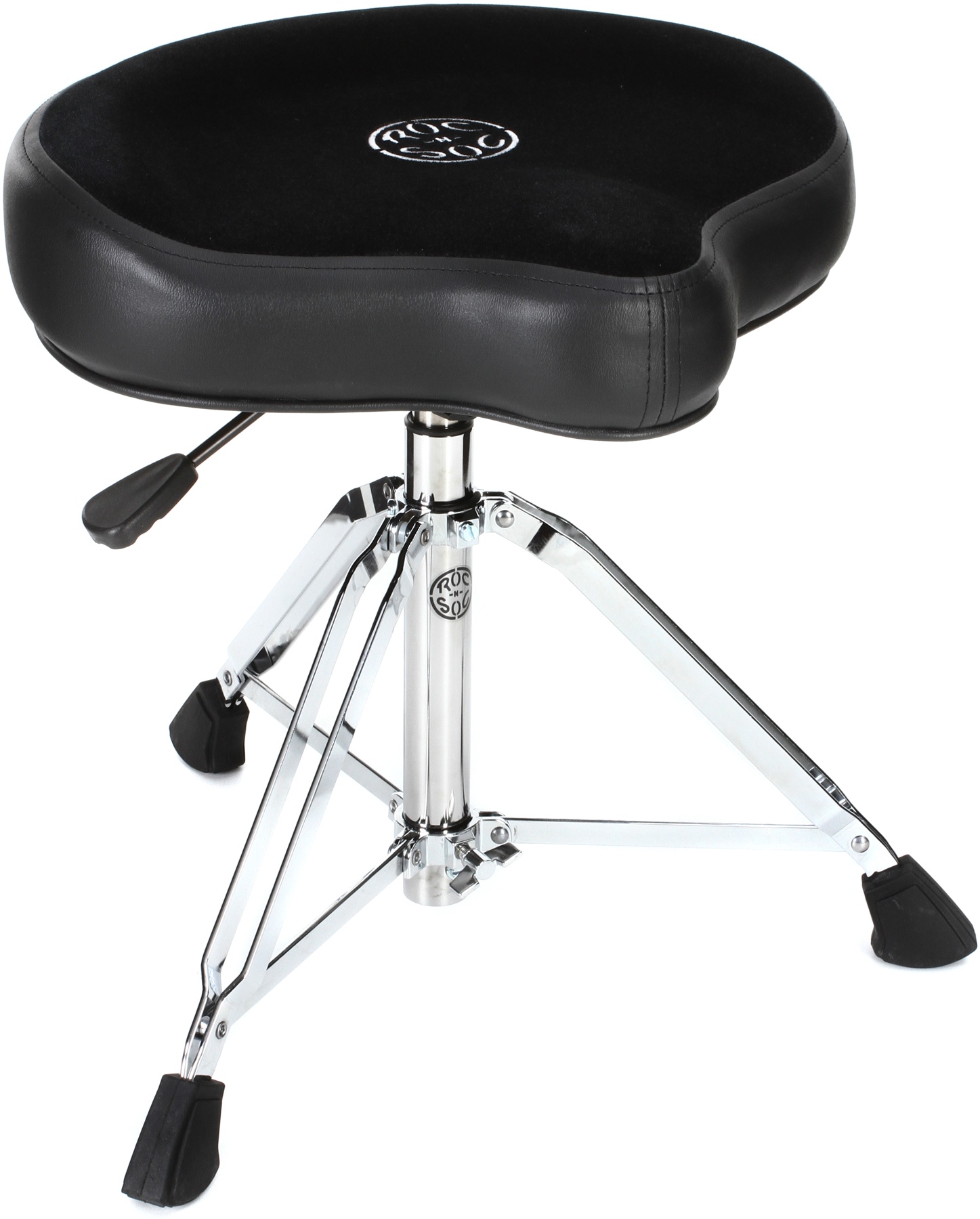 Some drummers love using hydraulic drum stools. When they play, they can actually "bounce" to the music. This is one characteristic of these types of seats that turns me off. You can feel yourself sinking down when you sit on one. A lot of drummers find these to be better and more comfortable: I do not.
Longevity of Hydraulic Thrones
I can't say for sure that every drum stool with a hydraulic lift will fail, but I have seen many old thrones in schools and venues.
After many years of use and abuse, these stools ultimately have a problem of keeping their height.
I've used many of these stools that literally will sink when you sit down. Could it just be the result of young high school students abusing these thrones?
Potentially.
I still believe these types of stools are just not reliable in the long run.
Drum Stools With a Back Rest
One option to consider when purchasing a throne is getting one with a backrest.
A backrest can provide many significant benefits, including back support, easing back pain, providing balance for double bass patterns, and much more.
If you already own your own stool and love it, don't worry, there are universal throne backrests you can purchase that will fit your current seat.
Drum Thrones for Back Problems
I am in no way a medical professional — the information below is just my opinion and hopefully is a source of help.
If you suffer from issues of back pain while playing drums, there are a couple of things you can do to play longer and lessen pain.
Make sure you are playing with a quality drum stool. Specific thrones at the lower end of the market are very firm, small, and provide no support.
Get a backrest for your stool
If you don't already have one, be sure to purchase a throne with a backrest.
While this won't completely alleviate the issue, having a throne with a backrest will force you to play with better posture, gradually improving over time, and leading to you playing and performing longer without suffering.
Don't sit too high up
Make sure you aren't sitting too high on your throne.
Something that often occurs with drummers sitting too high is they will often compensate for this height level in their mid-section, resulting in terrible back posture, tension, and will lead to horrible back pain.
One tip I read in Modern Drummer is to keep your legs at right angles in the heel-up position so that the top of your leg is parallel to the ground to determine your height.
Stools specifically designed for back problems
If none of these solutions have worked for you, there is one more option. Carmichael makes a throne that is made explicitly for drummers with back pain.
I, myself, cannot say that this throne will help you if you have back problems, but it may be worth a shot if you're struggling.
These drum thrones have been scientifically designed to relieve and prevent back pain as well as other discomforts associated with sitting for long periods.
The drum throne seat has a unique design in that there is a large gap in the center of the stool. This is what Carmichael calls the "free floating spine."
It allows the tailbone to "float" reducing pressure on the lower spinal discs. Carmine Appice and Todd Sucherman both swear by these thrones.
Carmichael sells both a standard drum stool as well as one with a throne with a backrest.
Always keep track of your gear, especially your throne
I recently played a messy gig at a festival near our hometown. Besides the show being extremely awkward, the production company running the event didn't have their act together.
Loading on and off the stage was a total mess and gear easily was mixed up between bands. During our loadout, my drum stool was mistakenly put back on stage for the next band. Wouldn't you know it, it began to rain.
With everyone panicking to get gear to the trailer and out of the rain, I managed to lose my drum throne.
For the upcoming tour we had, I borrowed the opening band's throne for the whole tour.
Even though the production company did eventually find it, I opted to have it shipped home because we were already so far into the tour. I was embarrassed and grateful.
Moral of the story: make sure to keep track of all your gear when playing gigs and touring.
What kind of throne do you use? Have you purchased one on our list? Let us know down in the comments below your favorite! Thanks for reading,