Disclaimer: Links throughout the article may be affiliated. If you click and make a purchase, I get a small commission. As an Amazon Associate, I earn from qualifying purchases.
It's no secret that kids, in general, like to hit things. Drums provide the perfect outlet for their emotions and frustrations as the brain develops.
But who wants to listen to a noisy drum set all day? I wouldn't either, even though I am a drummer.
I'm not sure how my parents put up with me, but I wish they had gotten an electronic drum set for me when I was a kid.
Electronic drum sets are perfect for kids — they quiet, provide a fun experience, and are even good for the brain.
Whether they're a toy in your child's eyes or spark an aspiration for music performance, don't be afraid of letting your child start playing the drums.
Today we'll take a deep dive into the world of electric drum sets for kids, noting all the features and advantages of each.
---
Best Electronic Drum Kits for Kids — A Quick Glance
The table above shows some of my favorite picks, but if you want more information, be sure to keep reading to get more information on each kit.
1) Alesis Turbo Mesh
At the most affordable end of the spectrum is the Turbo Mesh from Alesis. It's a smaller electronic kit but has plenty of features a new child drummer desires.
Aside from the apparent hitting areas, the kit features three cymbal pads, four drum pads, two pedals, and a drum module to change the sounds.
The steel stand is robust. While assembly is a little tricky, this is common among all electronic drum kits. The rack does fold up for secure storage in the closet.
The Turbo Mesh has ten kits with 120 sounds, including drum sounds from genres like rock, metal, jazz, and hip-hop.
For young ones who want to play along to their favorite music, there is an auxiliary on the unit, allowing you to plug in an MP3 player, laptop, tablet, or phone.
2) Pyle Pro Electronic Tabletop Drum Set
I usually don't recommend tabletop drum kits, but for this case, I think they're appropriate.
Tabletop drum sets give kids an introduction to the drums without spending a fortune.
The Pyle Pro Electronic Tabletop Drum Set has seven pads complete with 300+ drum/cymbal sounds. It's portable, too.
While it includes an AC adapter, you can power the unit with six C batteries — your child will have fun all around the house.
3) RockJam Mesh Electronic Drum Kit
RockJam is a company that specializes in many affordable kids' instruments.
The electronic drum set from RockJam is more affordable than the Turbo Mesh, but not by much.
Again, like the Turbo Mesh, there are four drum pads, three cymbals, two foot pedals, and a module.
The sounds are not the greatest. But, if you only need a toy and not a learning tool for your child, it shouldn't be too much of an issue.
If your child is serious about playing the drums, stay away from this kit.
4) Carlsbro CSD130 Electronic Drum Kit
Carlsbro's CSD130 has an interesting look to it. The set supports itself with three legpoles, which I assume cuts down on shipping and manufacturing cost.
Like most on the list, the CSD130 has four pads, three cymbals, two pedals, and a funky-looking drum module in the middle.
One tremendous advantage of the Carlsbro kit is the realistic kick pedal. Having a kick pedal as such allows for a much more robust playing experience, akin to playing a real acoustic bass drum.
Aside from that, there is nothing special about the kit. I think it is a great choice, and picking between this one and the Turbo Mesh is a tough decision. The kick pedal is a huge advantage.
Oh, and it's affordable in comparison!
Carlsbro also sells one without the realistic kick pedal, but I decided not to mention it here.
5) Avatar Electronic Drum Set for Kids
Avatar (also known as HXW) is a relatively new brand to the electronic drum kit market.
While the cost of this kit is a little bit more, you get a few more features reserved for more expensive drums.
The snare drum is dual-zone, giving you two different sounds on the pad zone and the rim.
Avatar's e kit features a real kick tower, something we haven't seen yet. This piece acts like a bass drum would, emulating the feel.
6) Roland TD-1DMK
Roland used to make a kit for kids called the TD-1K. Unfortunately, I can't find it for sale anymore. It was far more affordable than the TD-1DMK.
However, if your child is serious, an electronic drum set from Roland may be the right solution. Roland makes top-of-the-line electronic instruments.
For starters, the pads included are of a much higher quality. They feel nicer to play on, as well.
Roland's TD-1DMK includes 15 preset drum kits along with an onboard coaching function for new players.
7) Alesis Surge Mesh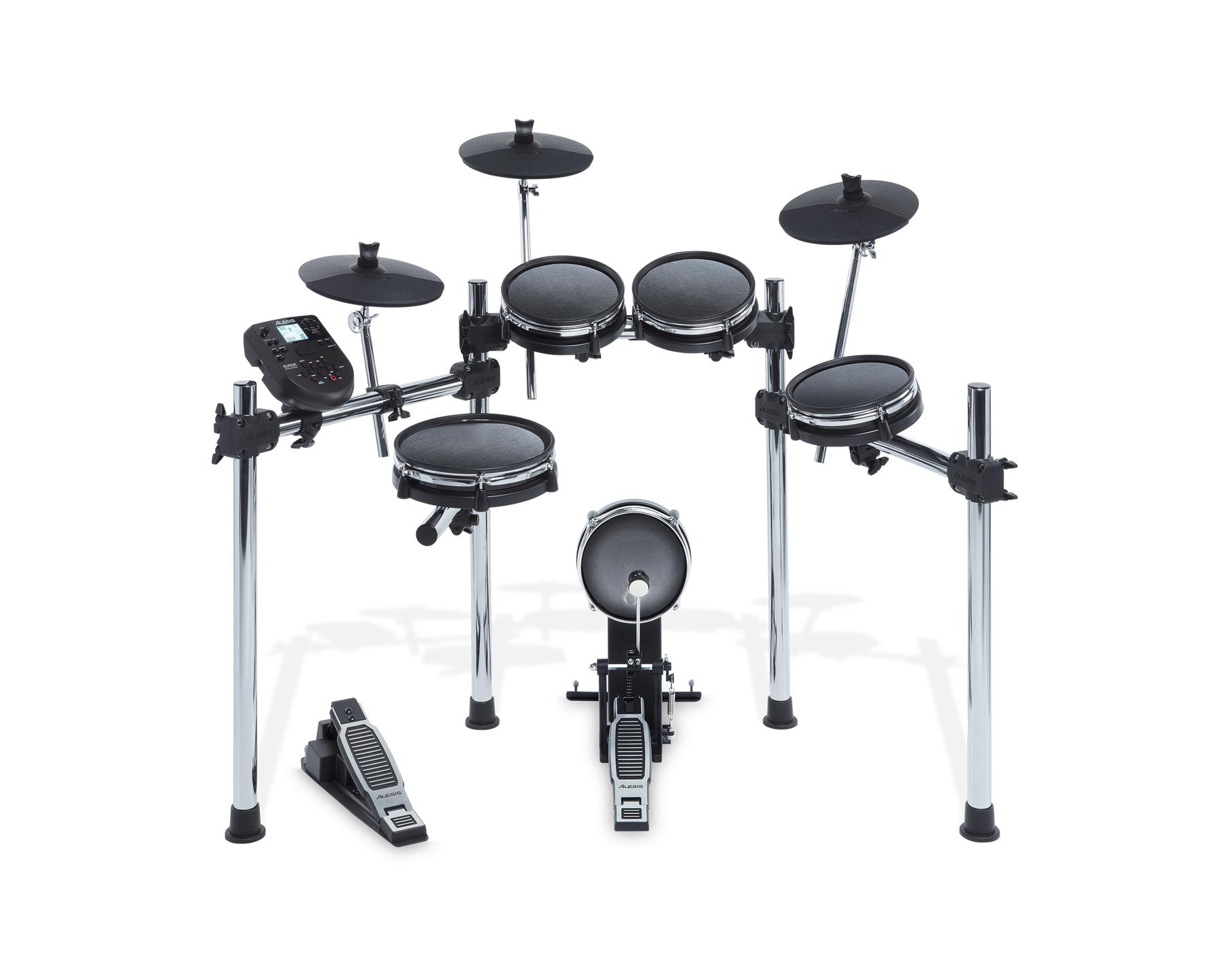 One of my favorite mid-level electronic drum kits for kids is the Alesis Surge Mesh. I've written about it before, and you can read my full review here.
All drum pads included are dual-zone, giving you two sounds per drum — a vital feature for a more realistic experience.
The Surge Mesh packs 385 unique drum sounds into the drum module along with 40 preset kids and 60 play-along songs.
The Surge Mesh is the best of both worlds — it's moderately affordable and has many features a more expensive electronic drum set would typically include.
---
Wrapping Up
Out of all the e-kits available for kids, I believe the Alesis Surge Mesh is the best option. It's a little pricier but does have a lot more features, and your child can grow into the set.
I hope this list helps you make a decision. If you think real drums may be better, do miss my guide on the best drum sets for kids.
Thanks for reading.
Featured Image Copyright: crazymouse / 123RF Stock Photo