Disclaimer: Links throughout the article may be affiliated. If you click and make a purchase, I get a small commission. As an Amazon Associate, I earn from qualifying purchases.
NAMM 2022 is finally here after two long years. The world's largest in-person music gear conference is back. For those unfamiliar, NAMM (the National Association of Music Merchants) is happening Jun 3 through June 5 in Anaheim, CA at the Anaheim Convention Center.
The NAMM convention is famous for new product releases, from both prominent and new vendors. While there are tons of different products and vendors slated of all instruments, I'll be focusing on, you guessed it, drums and percussion.
In addition to gear announcements, plenty of performers are slated to perform at NAMM over the course of the event.
New Drums and Percussion from NAMM 2022
The latest tweets from the event:
The new finish on the Club-JAM kit looks incredible.
Yamaha launches the new DTX8.
Looks like the Efnote 7X has some upgraded cymbals and the module looks different. If you haven't already, check out my review of the 5X from Efnote.
New "1st Chair" thrones from TAMA. Limited edition, so don't wait to pick one up if interested.
TAMA is out here innovating! This stand is great for drummers who have an electronic drum pad. If you want your SPD-SX a lot higher, this stand has your back!
Releases from Prior Years at NAMM
NEW! V-Drums TD-27KV delivers the immersive sound and response that you only get with V-Drums. At its heart is the powerful new TD-27 sound engine, filled with premium-grade, fully customizable sounds. Discover more: https://t.co/A72xtfXYfS pic.twitter.com/PvW3S1aOJz

— Roland Canada (@ROLANDCANADA) January 16, 2020
The announcement of the TD-27KV is one of the coolest announcements we've gotten so far from NAMM 2020.
One of our most unique Finishes ever! This veneer features a mix of exotic wood and brass. You've got to see this! #dwdrums #namm2020 pic.twitter.com/mNb6rdWUti

— Drum Workshop, Inc. (@dwdrums) January 17, 2020
DW's new finish looks awesome!
[#NAMM2020] We are expanding our pedal family and introducing the NEW Pearl Eliminator Solo pedal. This pedal delivers all the speed and performance of the original Eliminator, but in a SINGLE cam option.
Read more about other new products: https://t.co/KUMT4spb7r pic.twitter.com/mkq83yJKE4

— Pearl Drums Europe (@PearlDrumsEuro) January 16, 2020
Pearl also has quite a few new products to show off including new hardware, percussion, accessories, and the new Eliminator Solo pedal.
S.L.P. Dynamic Kapur is now avilable in a new flat black finish.#namm #namm2020 #NAMMShow pic.twitter.com/x4aUeIVoUj

— Tama Drums (@TAMAofficial) January 17, 2020
Tama is introducing a new flat black finish for their SLP Dynamic Kapur shells.
NAMM 2020 | Yamaha Drums has a HIP new addition. The Stage Custom HIP is a great companion for jazz, busking & creative drummers. The 13″ floor tom is fitted with snare wires so it can double up as a snare drum for a fun bop-style-kit😲

Find out more | https://t.co/KFGWQuVroL pic.twitter.com/fAa8iJzN4G

— Gear4music (@gear4music) January 16, 2020
Yamaha's new Stage Custom HIP is great for gigging drummers who need a smaller footprint when lugging drums around the city.
Lots of exciting news coming out of #NAMM2020 including a new limited edition Steve Gadd signature snare drum from Yamaha and Craig Blundell's debut snare from Mapex, called The Machine – very cool, guys!! @DrSteveGadd @YamahaMusicEU @craigblundell @MapexDrums
#drumnews pic.twitter.com/LtzYoaIvpu

— Rhythm Magazine (@RhythmMagazine) January 17, 2020
Yamaha also announced a new signature snare drum from legendary drummer Steve Gadd.
Check out this cool @VOXamps Telstar reissue! #namm #namm2020 #vox #voxtelstar pic.twitter.com/fZMZrSott0

— Fab Gear (@FabGearOfficial) January 16, 2020
Here is an interesting one. Vox unveiled the Telstar, a re-imagining of Trixon's smushed bass drum kit. I can't say it's practical, but it's definitely unique.
Be sure to bookmark this page, as I'll be updating it as NAMM begins with every exciting release I find.
Where To Buy The Latest Releases From NAMM?
As I've stated in the past, I love working with Sweetwater. They're by far the best musical instrument retailer in the USA. I am affiliated with them, but only because I love the experience and how positive my time has been over the last ten years.
Sweetwater is one of few retailers who get gear from NAMM early, so be sure to check out what's in stock there.
Now, let's dive into some of the early drum releases from NAMM I've found.
What's Released/On Sale?
So far, I've compiled the list below of some of my favorite releases from NAMM 2020.
Roland TD-27KV
Roland VAD506
Gretsch Drums Renown 4-Piece Shell Pack
Yamaha Stage Custom Hip 4-Piece
A product not released exclusively this year, but one that's awesome nonetheless, is Kickblock. It aids in stopping your kick drum from sliding forward.
TAMA
TAMA is coming in early for NAMM 2020 with tons of different kits, accessories, and more.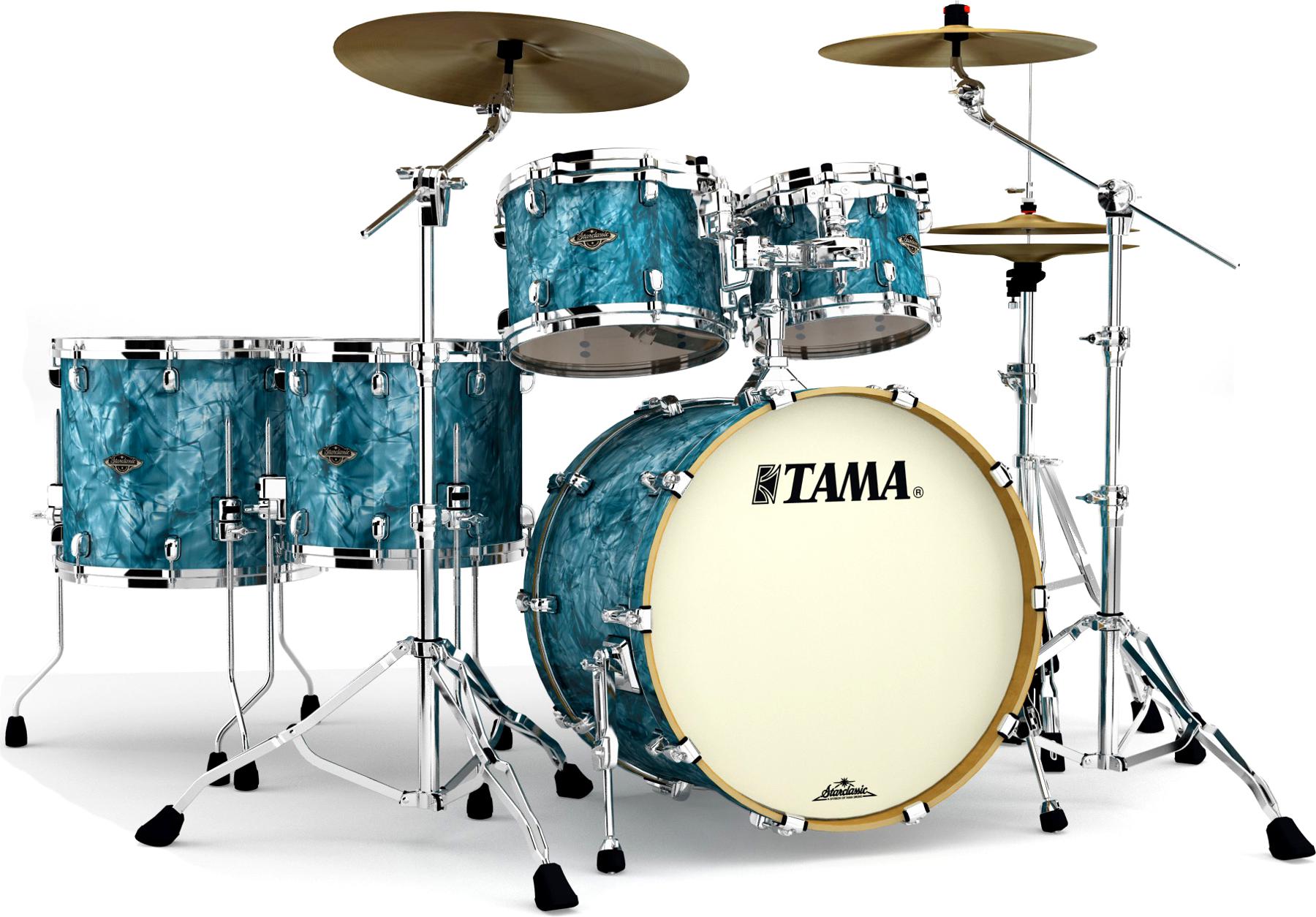 There's a lot that Tama offers so far this year, but the kit above really struck my eye. I absolutely love the finish.
Here are some of the other early releases from Tama so far.
Tama Drum Rug
Tama STAR Mahogany 5-Piece Shell Pack
Tama Dyna-Sync Hi-hat Stand
Tama Closed Hi-hat attachment
Tama Power Pad Pedal Bag
Tama Metalworks Effect Series Mini-Tymp Drums (8″, 10″)
Tama Starclassic — Varying New Finishes
Tama Soft Sound Rings (10″, 12″, 14″, 16″)
I'm most excited about the Metalworks Effect Series. These drums remind me of concert toms we saw prominently in the 70s and 80s.
Their new drum rugs also look great when compared to everything else available on the market.
Tama also has dropped a whole boatload of different shell finishes for their varying kit models, so check them out at Sweetwater to see what they're offering.
Zildjian
Zildjian, being one of the most prominent names in cymbal making, always has a big NAMM showing. This year, we have a few early releases.
Zildjian I Family Cymbals
So far, they've announced a new series of cymbals called "I Family," which is one step up from B8 cymbals, according to Zildjian. It's an intermediate cymbal family.
The I Family of cymbals is one step down from the S series, for those curious.
There are lots of different packs of varying cymbals to choose from if you don't want to get them separately.
---
Roland
I've speculated in the past that it's time for Roland to drop a new sampling pad, and maybe we will see that this year.
Roland unveiled a total of four new electronic drum sets this year.
Roland TD-27KV
The TD-27KV is one of my favorite releases this year. It's an upgrade of the old TD-25KV kit featuring a new module, bigger pads, and an awesome digital ride.
Roland VAD506, VAD503, and VAD306
New from NAMM this year is Roland's new set electronic drums featuring an acoustic design — hence the name V-Drums Acoustic Design. The module used is the brand new TD-27.
Stands and hardware are not included.
I think it looks pretty nice, but I'm not so sure that I'm huge on the drum sounds included in the module.
Coming in right near $5k, I would almost opt to pay a little more for the TD-50 omitting the acoustic drum shells.
Roland GO:LIVECAST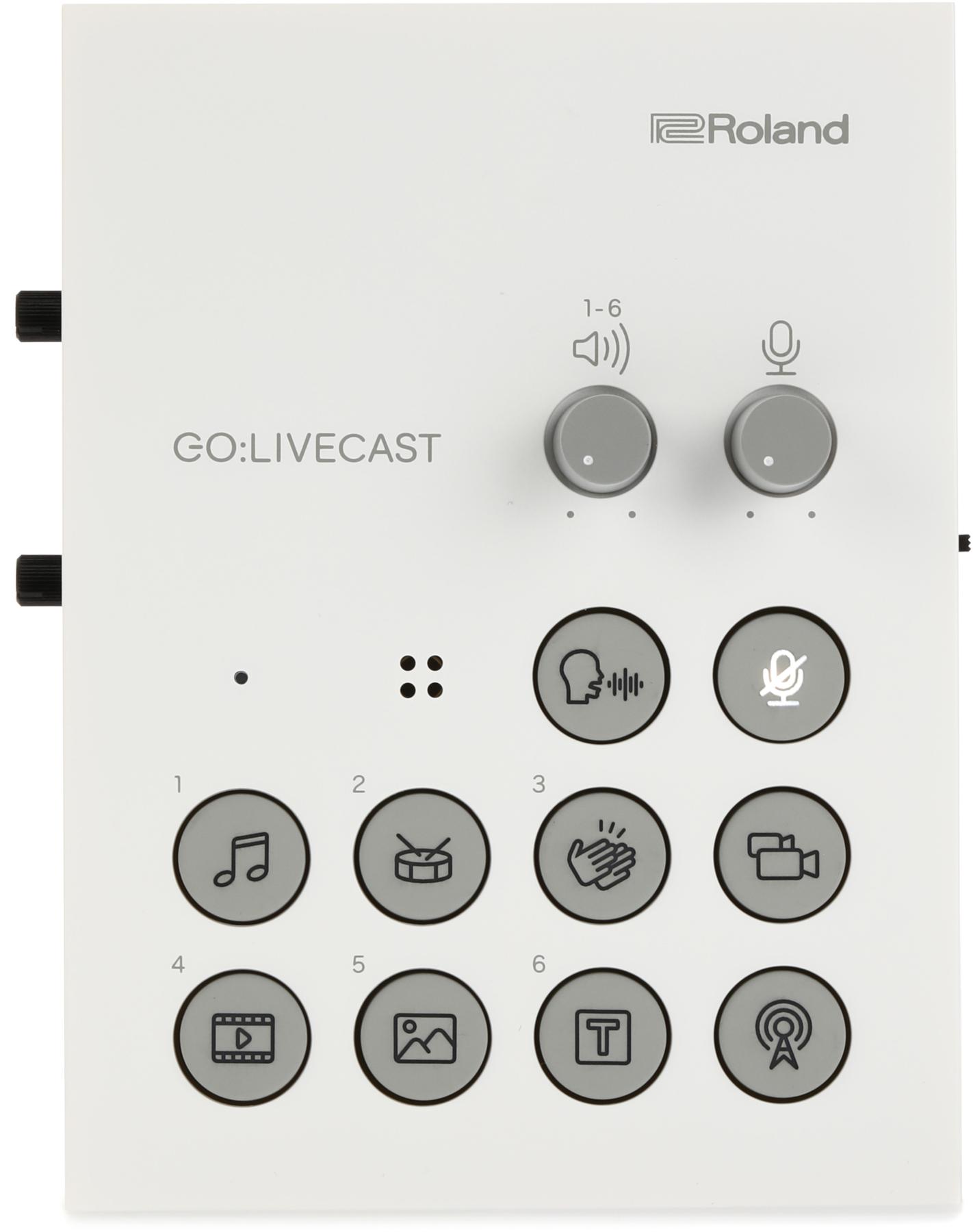 The most prominent early release so far from Roland is their GO:LIVECAST streaming studio. I've said in the past that live streaming is hugely popular.
Building a community of fans is a great way to earn a living with music. Live streaming your drumming is an excellent way to do it.
For content creators who connect with their audience 'Live'—through Facebook Live, Twitch, YouTube, or any other major streaming service—bring a new level of production to your smartphone live streams with the 🚨NEW🚨 Roland GO:LIVECAST: https://t.co/5FVAJuDp2B pic.twitter.com/kgIC3oWG7d

— Roland U.S. (@Roland_US) January 7, 2020
My Predictions for Roland Releases
So far, there's been nothing released early for drums and percussion from Roland, but I have a reasonable suspicion that we will see a new TD electronic drum set drop at NAMM 2020. Yep, it happened!
As I stated above, I'm hoping for a new sampling pad. My SPD-SX still works fine, but with new products out like the Strike Multipad, it would make a lot of sense for Roland to update their pad.
Canopus and ATV Partner
Electronic drum maker ATV and acoustic kit maker Canopus this year announced a partnership "to create more realistic drum sounds."
The two companies will unveil their new sounds at NAMM 2020. Read the press release here. ATV is exhibiting in HALL C booth #6629.
The additional sounds will be available to buy on ATV's online website following NAMM.
More To Come
Keep this blog post on your radar. Feel free to bookmark and share it. I'll be updating the article as NAMM continues, sharing all the latest drum gear released at the convention.
If you're a vendor or a manufacturer and want to see your products on this page, please contact me. I love sharing new and innovative products with the drumming community.
Other images throughout courtesy of Sweetwater, Tama, and Roland.