Disclaimer: Links throughout the article may be affiliated. If you click and make a purchase, I get a small commission. As an Amazon Associate, I earn from qualifying purchases.
Whether you're a new drummer or an experienced one, finding the best drum set right for you can be a difficult task. With so many manufacturers and models available, how can you choose?
In today's article, I'm aiming to tackle this subject, offering my insight and an in-depth review of each kit listed. I'll look at what they offer, along with my opinions of the brands.
I should note, the kits listed are the best professional drum sets, For those newer to drumming, you may want to check out my roundups of cheap drum kits and beginner drum sets instead.
A word of advice — if you want the best drum set shells, stay away from kits that include cymbals. You'll need to purchase those separately.
All of the kits featured in this article are exclusively shell packs.
Best Drum Sets of 2022 — A Quick Glance
IMAGE
PRODUCT
DETAILS

7-piece Maple/Mahogany Shell Pack
Enhanced with SSC shell optimization
Exquisite look, touch, and tone

5-piece Shell Pack
Top-shelf drums
Premium die-cast zinc hoops

5-piece Shell Pack
Seamless Acrylic Construction
Beautiful crystal clear finish
Above is a table featuring my top 3 picks. Since this is a best list, the choices are a bit more pricey.
Let's now dive into reviews and comparisons of the best drum kits available.
1) DW Collector's Shell Pack
A Dream Kit
So yes, I've started the list off with a rather expensive drum kit. While I will get to more affordable options later in the article, the Collector's Series from DW makes an excellent case for being the best drum set money can buy.
The Exotic line of drums is part of Drum Workshop's Custom Shop finishes. Being that custom is in the name, you'll have to wait a little longer to get your kit.
It should be no surprise, a kit at this level does not include cymbals or hardware.
DW's Custom Shop Collector's drums feature SSC shells. Depending on the size, DW selects the best type of shell construction for optimal harmonious sound across the kit. This shell-crafting technique allows the drum to vibrate more freely, giving the drum a lower overall pitch.
Depending which shell pack you pick determines the hardware. Black nickel hoops are a favorite of mine on lighter-colored drum sets.
At the time of writing this, Sweetwater has quite a few finishes available for order. I assume since they work with DW, you can get any finish available on DW's website.
A few of the available finishes include:
Click here to see all available Collector's Series shell packs.
Some drummers scoff at Drum Workshop drum sets, saying they're overrated and overpriced. Others defend them to the bitter end. Whether you can justify the price is your call.
I think Drum Workshop Collector's kits are authentic works of art. A 2014 interview recently piqued my interest with DW's John Good — it's worth a read.
Whether you believe his process or not (and I do), John Good works meticulously to create excellent drum shells.
2) Tama Starclassic
Perfect for Intermediate Drummers
The five-piece shell pack from Tama is a combination shell of birch and walnut wood. Tama also offers the Starclassic in maple, but it's not nearly as popular.
The finish options Tama offers are endless with the Starclassic drum kit, and most are in stock at Sweetwater.
Some finishes include:
Neon Orange Oyster
Lacquer Phantasm Oyster
Lacquer Molten Brown Burst
Jade Silk
Lacquer Satin Sapphire Fade
Lacquer Ocean Blue Ripple
Lacquer Transparent Mocha Fade
Molten Electric Blue Burst
Natural Pacific Walnut Burst
Click here to see all available finishes at Sweetwater.
The Starclassic shells have a more-pronounced attack with far better projection than other drums. These drums are perfect for intermediate to professional drummers with a knack for Tama.
3) Pearl Crystal Beat Shell Pack 5-Piece
Best Acrylic Drum Kit
Acrylic drums seem to be all the rage these days. Pearl's Crystal Beat shells are acrylic but feature a frosted finish that is transparent, yet opaque.
Pearl originally introduced the Crystal Beat in 1973, but it's not to say this is a reissue. Pearl modernized the drum kit, adapting to the demands of today's drummers.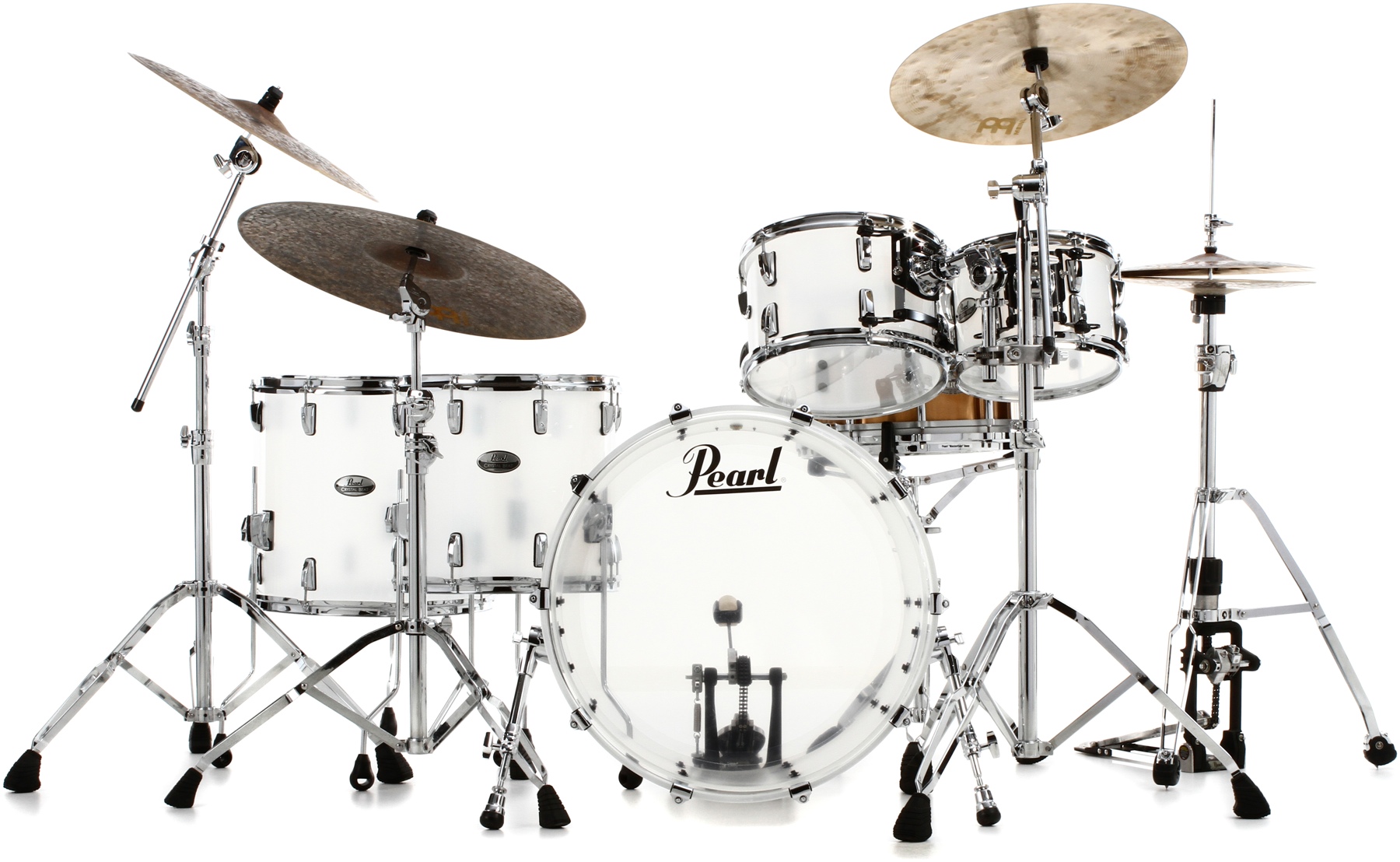 The kit projects well and features toms that are fat and punchy.
I'm not the biggest fan of transparent shells, so being frosted adds a nice touch usually not seen on standard acrylic drums.
Pearl also isn't my favorite drum manufacturer, but I do respect the drums they make — they're quality instruments. My biggest gripe is the hardware.
4) Drum Workshop Design Drum Kit
Best Entry-Level Professional Drum Set
To my knowledge, DW originally released the Design series back in 2013. The line targets intermediate to professional drummers, being much more affordable than the Performance or Collector's Series drums.
Just like others on the list, the Design is a shell pack — no cymbals or hardware come with the kit.
Drum Workshop quality is all-around superb, as you'd expect. The company manufactures the Design shells in Taiwan (to keep cost done, I am assuming), but the quality doesn't suffer.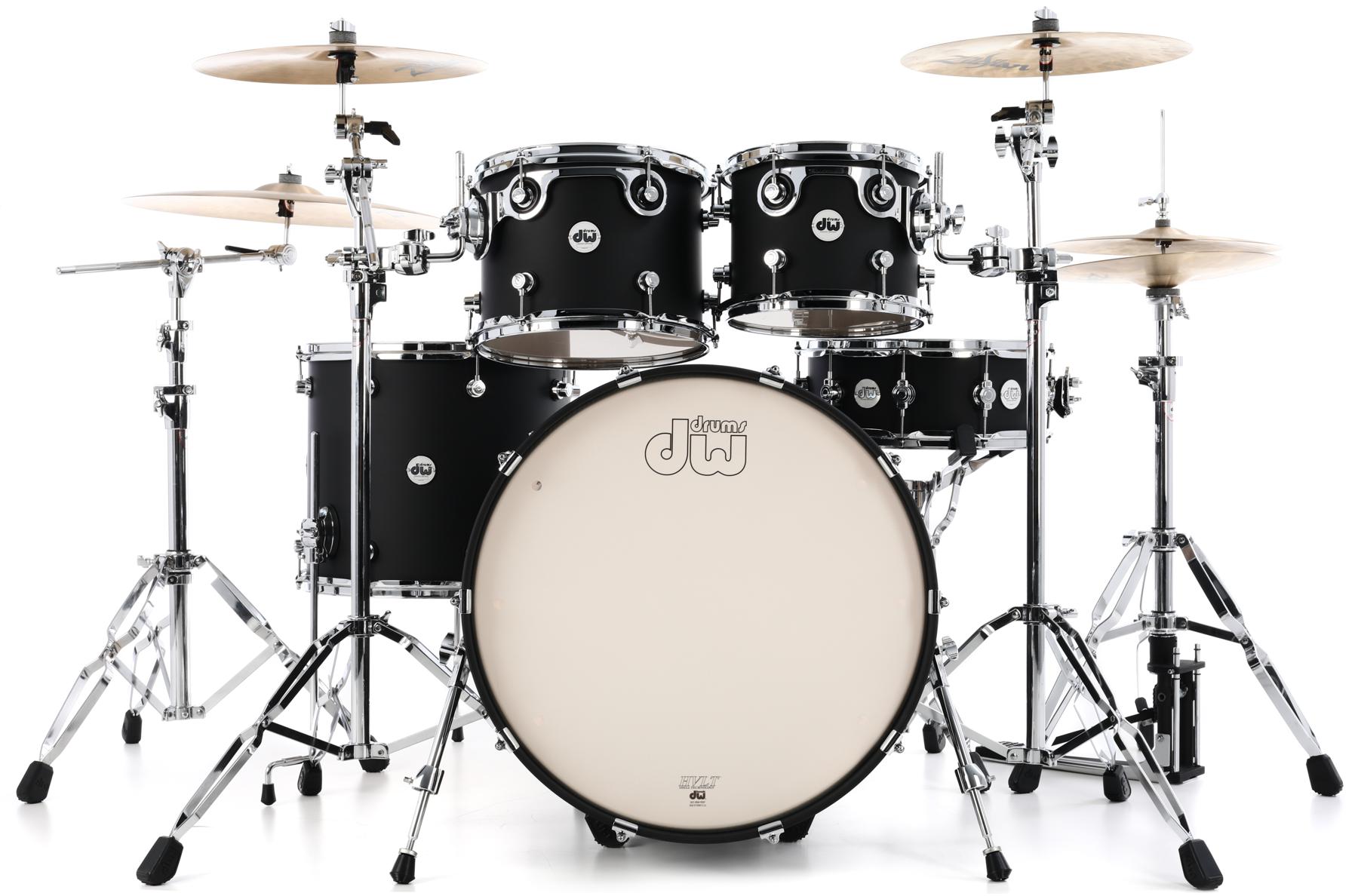 The Design Series drum sets come in a variety of finishes:
Cherry Stain
Gloss White
Black Satin
Tobacco Burst
Clear Acrylic
If you haven't yet, be sure to read my full review of the DW Design Series.
5) Yamaha Live Custom Hybrid Oak
If there's one thing about Yamaha, I love it's their hardware. It's robust and is one of the reasons while I use their hardware exclusively.
You'll find the same care and attention to detail on their drum shells.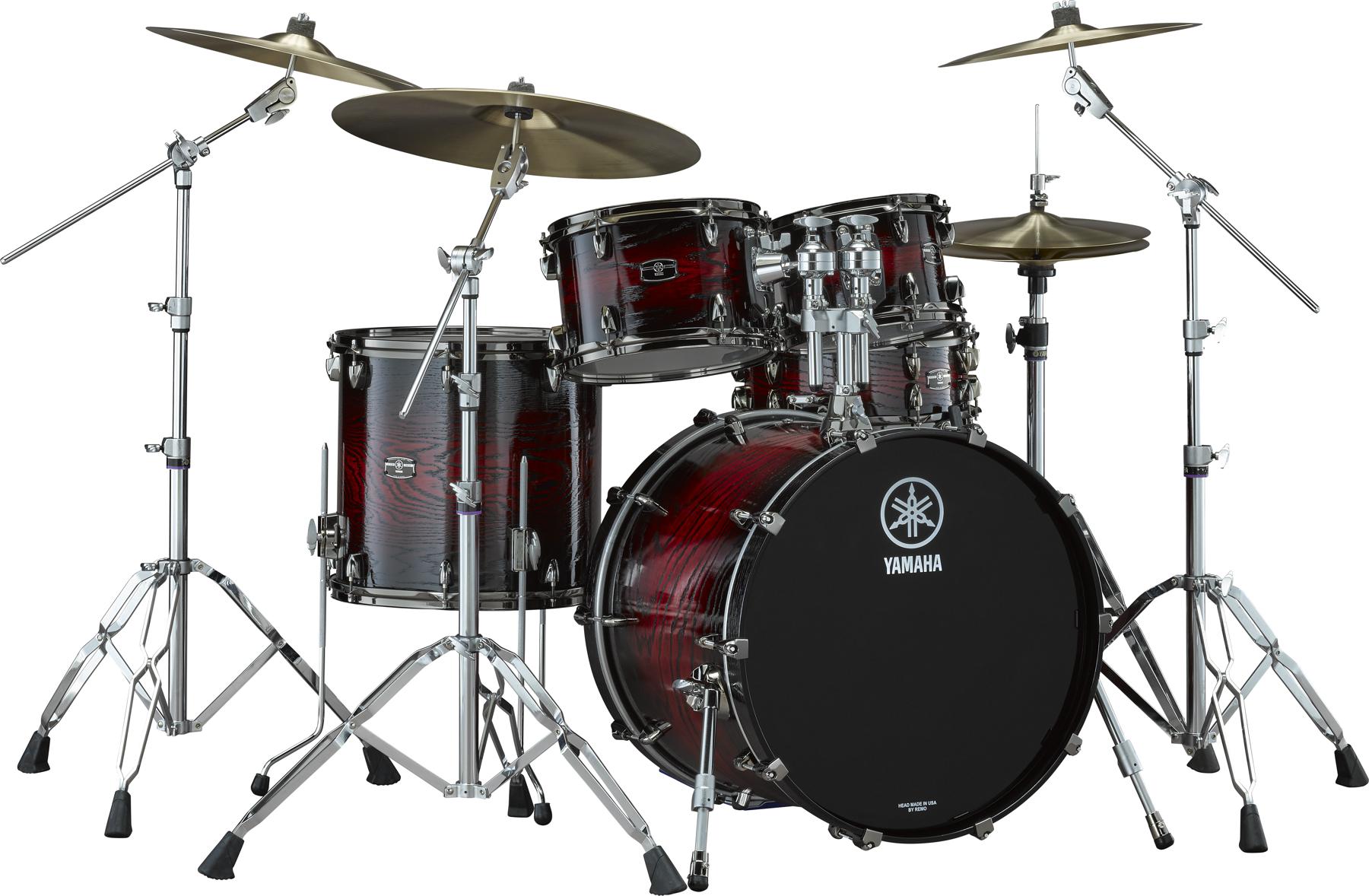 The Yamaha Live Custom Hybrid is a five-piece shell pack that comes in a variety of finishes.
Earth Sunburst
Charcoal
Ice Sunburst
Natural
Magma Sunburst
Charcoal Sunburst
Each Live Custom Hybrid shell is handcrafted, featuring an inner phenolic resin ply. The plies give a purer fundamental pitch, enhancing dynamics for more punch and projection.
The outer plies feature a Japanese uzukuri-inspired finish technique — a brush scrubs the wood giving it a luxurious texture.
6) Ludwig Vistalite John Bonham Zep Set
Modern reproduction of Bonzo's iconic kit
Who doesn't love a little Led Zeppelin? The Ludwig Vistalite Bonzo kit is a remarkable re-creation of the drum set John Bonham played on stage with his band.
The Vistalite shells are acrylic in an amber finish — it's the same kit you'll see on stage in the live film The Song Remains the Same. The shell pack does include a Ludwig Supraphonic snare, as well.
Other big-name drummers who played Lugwig include Ringo Starr, Roger Taylor, Dave Lombardo, and more.
7) Gretsch Drums Broadkaster 4-Piece Kit
In conversations with drummers over the years, one company always seems to come up — Gretsch Drums.
Gretsch, while most notable for guitars, also manufactures drums, and has since the early days of his first music store in Brooklyn, New York (1883). German immigrant Friedrich Gretsch first made and sold drums, banjos, and tambourines.
Gretsch was a pioneer in drum making, credited with making the first drums produced with multi-ply shells. The Broadkaster series drums feature the classic look and sound of Gretsch — they're open, warm, and wide-sounding. The shells feature 30-degree bearing edges, which optimize the transfer of vibration.
Wrapping Up
With my picks out of the way, what drum sets/shells do you think are the best? There are still a lot of companies and custom makers out there like SJC, A&F, C&C, Risen, and more. Do your research before investing in a new drum kit.
I hope this guide has helped you narrow your selection. Be sure to leave a comment down below, and don't be afraid to ask questions if you have any! Thanks for reading.