Disclaimer: Links throughout the article may be affiliated. If you click and make a purchase, I get a small commission. Learn more›
Sampled drum libraries are becoming more and more popular as music creation becomes more accessible to bedroom producers and home studio owners. Without a doubt, drums are the most troublesome instruments to record.
Best Drum Sample Libraries at a Glance
IMAGE
PRODUCT
DETAILS

380+ mix-ready samples
Perfect for hip hop production

Realistic samples
Perfect for all genres

Massive 230GB library
Incredible level of detail
And even if you don't plan to use real drum samples for your production, don't worry — I've got you covered with trap and hip-hop kits, as well. Drum sample libraries allow for great sounding drums without the need of a live room and lots of microphones.
These libraries also give the producer more freedom to tweak individual sounds, leaving the artist with a more exceptional result. Here are 9 of the best acoustic and electric drum sample libraries you can start using today in your productions.
1) Real Drum Samples
Best Samples for Hip-Hop Production
Tons of producers who've worked on big-name records, Timbaland and Snoop Dogg just to name a few, love Real Drum Samples.
Jay Fisher, owner, has spent more than half a decade professionally in the music industry. Over the years, Jay built up a massive library of drum kits and percussion samples. Berklee College of Music, Ask Audio, SAE Institute, and Music Radar have all recommended Real Drum Samples in the past.
Some famous producers who've used the libraries in big productions include:
Needlz (Bruno Mars, 50 Cent, The Game)
The Bizness (Kendrick Lamar, Chris Brown, 50 Cent)
Steve Baughman (Michael Jackson, 50 Cent, Eminem)
The best part? Real Drum Samples gives away 100+ premium hip-hop drum samples for free.
Line of Legends by Real Drum Samples
One of the paid packs, Line of Legends, contains all the drum samples you'll ever need:
Best Samples for Hip-Hop Production
70+ Monster 808 Sounds (808 Kicks, 808 Snares, 808 Hi-Hats & 808 Toms)
50+ Epic Pounding Kicks
50+ Piercing Hard-Hitting Snares
50+ Competition Shattering Claps
20+ Smooth, High-definition Finger Snaps
60+ Ultra Crisp Hi-Hats
50+ Thundering Toms
30+ Crystal Clear Cymbals
Each drum sample is individually EQ'd, filtered, and compressed—they're radio-ready.
Files included are .WAV—compatible with the DAW of your choice. There's no filler. These are the best handpicked sounds you can find for hip-hop.
Check out some of the free samples, and if you decide to pick up one of the libraries, readers of Drumming Review can get 20% off by using code DRUMMINGREVIEW20 at checkout.
2) Addictive Drums 2 by XLN Audio
XLN Audio claims that Addictive Drums 2 is the ultimate drum production studio, and I have to agree. I began using Addictive Drums 2 because I wanted greater dynamic realism when programming drums.
Many drum libraries lack dynamism from quiet hits, rolls, and drags. When I program drums, I try to emulate the feel and playing style of the given genre.
Ghost notes are often weak sounding in other libraries when programmed. Others suffer from the dreaded machine-gun sound due to lack of multi-velocity samples.
Aside from dynamics, most of the libraries XLN sells for Addictive Drums 2 sound great.
Depending on your taste, you can pick out the kits you want. Unless you decide to purchase the entire library of drums, you can save money and only get a few.
Be sure to read my full review of Addictive Drums 2, where I detail the exact ADpaks I picked and why.
The only libraries I haven't liked from XLN are the prog kits. They aren't instrumental in the music I do, but maybe they will work well for you.
3) Racks Stevenson Sample Library
The Racks Stevenson Sample Library started in 2020 with a mission to create high quality samples that would provide more options and flexibility for producers.
"I was chopping up a bunch of drums for my own productions," says Baran, the founder and head engineer for Racks Stevenson, "but I wanted the ability to change the mix. Sometimes there was too much reverb, or the snare wasn't quite hitting like I wanted it to.
I had no real way to change that with these traditional drum loops". Instead of short loops and drum breaks, Racks Stevenson focused on creating longer breaks that could be edited to a producer's liking.
By providing multiple mixes and all the raw stems, producers would have the ability to tweak, loop, and customize their drums more than they could previously.
"People loved the sound of our first pack. The feedback was amazing – but one message kept finding it's way to our inbox. 'WE WANT ONE SHOTS'… so we listened".
High Standard Vol. II Live Drum Pack
For their second pack, the High Standard Vol. II Live Drum pack, Racks Stevenson teamed up with Maryland drummer Wes Watkins. Racks and Wes focused on making a dynamic pack with a variety of different drum styles.
The idea was to include some classic drum breaks while also experimenting with some unheard grooves. Wes is well known for his complex style and for thinking out of the box. "And yes, we included one shots this time" said Baran. The packs were created with hip hop and pop producers in mind but they've since since many different artists chopping and using their samples across genres.
120 files of breaks + patterns
Full recordings
50 One-Shots
Stems available giving you access to all 360 raw drum mic recordings
100% royalty free
Racks Stevenson has been known to take feedback from their early users to make tweaks and re-release free updates after the pack is released. They're focused on usability and customization. All breaks are tempo labeled and can be easily dropped into any project. "We're just getting started.
We want to keep listening to producers and create some of the best samples and tools out there for producers and music makers."
You can listen to their demos at racksstevenson.com.
4) GetGood Drums
Incredible sounding drums and room mics
GetGood Drums Modern and Massive
Bands on the heavier side looking for big drums recorded in an incredible room, look no further. Modern and Massive has radio-ready drums for your productions.
View Price at Sweetwater
We earn a commission if you click this link and make a purchase at no additional cost to you.
I've written about GetGood Drums prior, and for a good reason. GGD was the first "real" sample pack I bought when it first came out. I was immediately blown away and began using it on everything.
GetGood Drums is a sample library collaboration from the members of the band Periphery. They needed a drum library that would work well for producing demos and albums. The result is the Matt Halpern Signature Pack.
I love every sample in the pack but tend to gravitate towards the larger kick sample and medium snare tuning. Overall, the library is handy for any genre, despite metal and hardcore music being the target demographic in their marketing.
5) That Sound
For those producing indie and pop music, look no further. That Sound is a boutique audio company that has a ton of different sample packs suitable for modern genres.
They're a company that should be on your radar (users of my link here receive a 10% off coupon).
I currently own Mammoth, Neon, Nir & Jeff, Boots + Claps, and 1985. Every library has a unique characteristic unto itself and is versatile.
For our record STARCRUISER, I used the Nir & Jeff pack for the entire album. The kit chosen was a modified version of the Smack Tight preset.
The company has an excellent loyalty program that gives money off for simple things like your birthday, following them on twitter, sharing on Facebook, and following on Instagram. Referring That Sound to your friends also earns you money towards your next library.
6) Drumforge
Drumforge is an audio company headed by producers Joe Wohlitz, Joel Wanasek, and Joey Sturgis. Their first sample pack, the Drumforge 1 Sampler, features an award-winning library of 54 drums and 14 cymbals that you may have heard on many major-label recordings (including ours).
I can't give enough praise to Drumforge; I helped with the first round of sampling on the project back in 2015.
In Madison, Wisconsin lies a beautiful studio where Drumforge chose for the project: Blast House Studios. We used a plethora of kits of all different tunings, sampling everything from the lightest tap to the loudest rimshot. And we took a lot of samples that day.
Drumforge is fantastic, in that, you get both processed and unprocessed sounds out of the box. The processed sounds are radio-ready, so if you need a drum library for writing or producing, check it out.
I am no way being paid to promote Drumforge; I'm happy to have been involved in the project and love the sampler.
As a side note, Joel, alongside Joey Sturgis and Eyal Levi, runs a website called Nail The Mix: the world's best online recording school for rock and metal producers. Have a look if you're interested in recording and mixing.
7) Superior Drummer 3
Toontrack hails it's sampler as "the world's leading virtual drum studio." Super Drummer 3 has seen changes across three separate iterations, with the newest boasting a whopping 230GB sized library.
SD3 comes packed with seven drum kits, shell dimensions from 6″ to 20″, tons of stick choices (sticks, brushes, mallets, rods), optional head selection, electronic samples, 25 acoustic snares, and 16 acoustic kicks.
Here are a few more of the features included:
11 separate room mics set up in surround
Playback in stereo or surround
Engineered by George Massenburg
Integrated offline audio to MIDI
350 vintage and classic drum machine sounds
35 mixer effects
Built-in MIDI editor
DAW automation
The unique qualities and larger-than-life sounds of Galaxy Studios in Belgium were a perfect fit for SD3. The team from Toontrack and master engineer George Massenburg sampled the library with precise detail in this beautiful recording studio.
The sampler also provides excellent support for your electronic drums, which is a game-changer for me. I have a tough time using the Alesis Strike with most drum VSTs.
8) Circle Drum Samples
Have you ever thought about recording and sampling drums outside? Oh, you have? How about out in a desert canyon?
Circle Drum Samples asked themselves this question and followed through in creating one of the most unique and exciting sample libraries I've ever heard.
Despite recording outside, the close sounds are slightly dry. There isn't audible wind noise or anything you'd expect from recording outdoors.
In addition to the close mics, there are "room" mics, if you'd even call them that. These remote microphones capture both the ambiance of the outdoors and the natural reflections of the canyon.
Desert comes packed with three kits — all sound incredible. The Canyon kit piqued my interest as a sub-headline on the website reads "Zeppelin In The Desert." I clicked immediately to listen.
In addition to Desert, Circle Drum Samples has six libraries in total and even some free samples to check out.
Libraries at date of publishing:
Dead
Desert
Garage
Drum Room
Drum Machine
Bash
Check out Circle Drum Samples.
9) Blxck Drum Kit
The Blxck Drum Kit from Angelic Vibes is a high-quality pack perfect for trap music featuring custom-made 808s, awesome snares, melody loops, female vocal hooks, and more.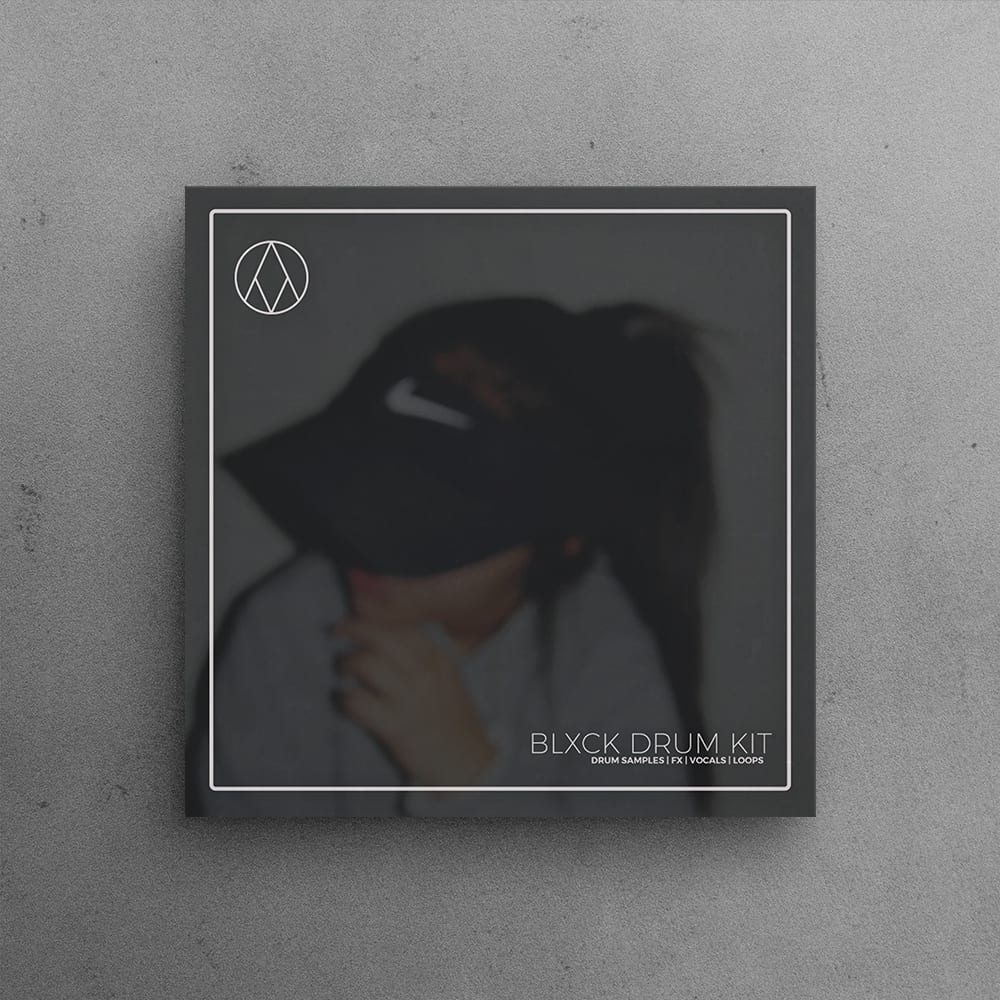 The kit includes:
15 808s
10 Kicks
10 Snares
5 Claps
15+ Hats
20+ FX
15+ Vocal hooks
25+ Melody loops
Looking for free options? Don't miss my roundup of the best free drum kits of 2022. And if you're looking for a way to easily use one-shot samples, dont miss Integraudio's guide on drum replacement plugins.
What are your favorite acoustic drum sample libraries? I'd love to hear from you in the comments. Thanks for reading!